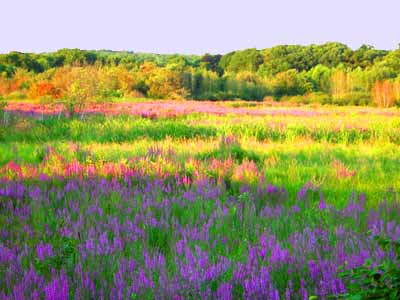 Larry Bloch is a Vermont organizer, proprietor of Brattleboro's people's products store delightfully named "Save the Corporations from Themselves," and a Democracy Schooler. He published "On Community, Democracy and the Law" in the Brattleboro Reformer on July 9, 2005 and in the Vermont Commons online. You can read it in its entirety here -- here's an excerpt:

"There has been much talk lately about the law. But where does the law come from? Many of us have grown up believing that the law comes from our representatives, our 'lawmakers.' Too often the law is a reflection of power, of who is in charge. Too often the law has been used to repress people rather than protect them. But are not 'we the people' the source of human law in this land? Is it not the responsibility of our representatives to listen to our collective will? Their job is to administer, shape and regulate the law, but the law derives from the citizenry.

"What is a community to do when its representatives do not uphold the law?

"In the mid 1970s the FCC withdrew its program to license low powered community broadcasts. For 30 years the FCC's regulatory solution has been to facilitate the consolidation of the airwaves into the hands of a few large corporations. In 1998, when this community sought to broadcast to itself the voices, opinions and art of its citizens, it found the FCC had abandoned its regulatory responsibility to provide ready and affordable access to the airwaves to all the citizens of the United States who collectively own them. Did we go home to wait? No, we filled the vacuum created by the FCC's failure to follow the mandate of the Telecommunications Acts of 1934 and 1996. In March of 2003 the citizens of Brattleboro documented its authorization of Radio Free Brattleboro's broadcasts in a town-wide vote. We were not acting outside the law as some have suggested, indeed we were upholding the law.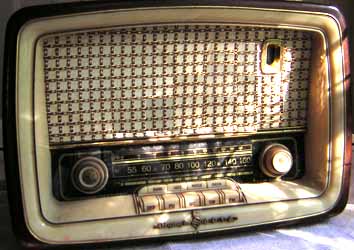 "People's new consciousness and their willingness to adopt laws confronting federal agencies, corporate lawyers, elected officials, industry associations, and judges, has generated great organizing energy. Fueled by that energy, an expanding coalition of civic groups, local, independent business associations, community media, labor unions, farmers' organizations, municipal governments, and environmental groups have rebuffed attempts by corporations and state legislators to influence local lawmaking."


Next Democracy School in Boston:
October 28-30, 2005
Note change in date from October 21-23!

"These are exciting, unifying ideas that open up possibilities and offer hope for our future."

Sarah Belcourt, attendee at the May Boston Democracy School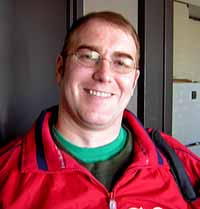 Tony's smile tells you why Democracy Schools continue to grow across the country, from Anchorage to Spokane to Austin -- twenty this year and twelve already planned for next year, more in the works (click here for the national schedule). October 2005 will be our seventh Boston Democracy School since we started holding them in March 2004. More importantly, the Schools represent people in communities ready to pursue rights-based organizing.

We cover the history and development of corporations in the U.S., the movements for people's rights, exciting current developments in fighting illegitimate corporate "rights" in Pennsylvania, and strategizing on how to apply all of these lessons for the benefit of Massachusetts communities dealing with toxics, sprawl, pollution, noise, and corruption of government. Democracy School is highly recommended to anyone interested in changing our democracy's collision course with corporate rule!

To find out more about our Boston Democracy School, click here. Enrollment is limited, advance registration highly recommended.


Introducing Jill Stein of the Massachusetts Coalition for Healthy Communities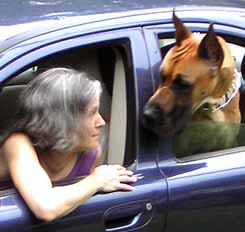 Jill Stein, pictured here with an honored associate, is a physician and long-time people's health and environmental safety advocate. She is author of In Harm's Way, published by Physicians for Social Responsibility, which discusses the effects of toxics on learning and brain development in children. She is a former Massachusetts gubernatorial candidate and currently the president of the non-profit Massachusetts Coalition for Healthy Communities, which works with people around the state on behalf of local democracy and sound economies. Jill recently attended Democracy School and is organizing in collaboration with CDC and others to bring justice and sustainability to the state.


Legal Services
Thanks to Board Member and Attorney Neil Berman, CDC now offers low-cost legal services ($65/hour) to communities committed to rights-based organizing. If your community is confronting a corporate assault, is frustrated by the regulatory system, wants to work towards addressing the root causes of our failure to control corporations -- and it wants to have another chance to protect its residents and resources in the process, call the CDC office at (781) 674-2339.


Short Takes
Legislative Tyranny in Massachusetts

On Thursday, August 18, 2005, Jill Stein of the Massachusetts Coalition for Healthy Communities (MCHC) called a meeting of Boston-area activists to discuss the crisis in disposition of state surplus lands. In brief, the Massachusetts legislature has attempted to revoke all local authority over land that the state has decided to sell. It is a blatant giveaway to developer interests by the legislators that they fund, and a stake in the heart of local democratic control.



While this oligarchical behavior is nothing new here or elsewhere, the pressure by citizens groups rallied by MCHC have stopped the vested interests dead in their tracks -- this month. We the people can't let our attention flag for a moment while we work to eliminate corporate influence of legislators who are supposed to attend to our interests, and ensure that decisions are made for the benefit of all of us, with a seventh-generational view foremost in consideration.

There will be more such meetings across the state. Read more about it here.

Thomas Linzey to Speak in Stockbridge, MA

Thomas Linzey, the attorney and organizer leading the charge for rights-based organizing in Pennsylvania, will be speaking at the Annual Lecture of the E.F. Schumacher Society on October 22, 2005. Thomas is an inspiring and compelling speaker, and the Schumacher Society does vital work on social and environmental sustainability. This promises to be an excellent informative event in the beautiful Berkshires. More information on their website.

Organizing in a Small Town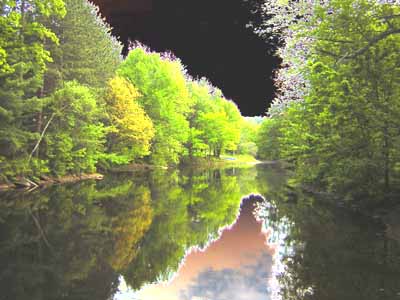 The first year of CDC's work has been building our organization by getting our administrative house in order, seeking grants, expanding our e-mail list, building relationships, speaking in public and running Democracy Schools. We are now half way into our second year, and our primary goal for the year has been to start working with communities to oppose government and corporate harms.

We are involved at various levels with four communities, in particular a small town fighting a destructive power plant. Despite 20% of voters showing up at a permit hearing and vociferously and articulately opposing the plant, the Zoning and Planning Boards dismissed citizens' objections as "uninformed" and approved the permit. The Boards, of course, were "well informed," having been "educated" by the developer.

We have two interns from the Environmental Advocacy and Organizing Program at Antioch-New England in Keene, NH who have become engaged in working with newly minted local activists on organizing and strategizing. Most people in the community have been caught off guard, and have little experience fighting powerful corporate interests. That's why small communities are so routinely targeted. We bring lessons learned from the Pennsylvania rights-based organizing experience, Democracy School, and a growing movement that says "You're not alone."

The attempted imposition of this power plant is a remarkable illustration of how governments become corrupted by vested interests, even when elected officials know all the voters personally. It seems to be a mindset that generally afflicts those in power, no matter how small the pond. It's the effect of a culture valuing property over health and well-being, and spending much of its creativity to convince us that war is peace, illness is health, and what's good for Halliburton is good for all of us. It's the same old story, and it's time for a new, democratic chapter.
Join Us!
The Pluck Starts Here!

A friend of mine who uses natural medicine was recently planning a trip to Thailand. He told me that he was going to get the recommended vaccinations against his better judgment. I replied that I hadn't realized that such a vaccination had been invented yet.

But it is surely our worse judgment that begs for vaccination. As a disease our worse judgment has likely caused more death and destruction on this fragile planet than all microbes and natural disasters combined.

The best preventive measure for worse judgment that I know of is informed decision-making where everyone has the opportunity participate. This is knowledgeable democracy at the local level, the democracy of an educated citizenry immunized against misleading propaganda, the democracy that decides against being poisoned by distant wealthy interests that expropriate resources and health and life itself.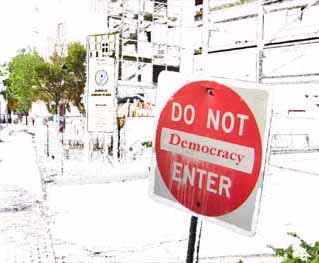 Grassroots democracy is not perfect, of course -- it's arduous, time-consuming and often contentious. But right now we have to contend with decisions made by the very powerful very few. We are all paying for these decisions in terrible ways -- global warming, widespread war, nuclear armaments, genetic science run amok, persistent gender-destructive pollutants (just a few of the long list that we all know too well). If we are to survive, they must all be stopped, and we have to start doing things differently.

Rights-based organizing is an important way to undertake this crucial task.

We at CDC insist that democracy be based on our fundamental rights as human beings, and that people -- all people -- are more important than property and profit. On these principles we embrace the highest ideals of the American Revolution -- ideals honored in the breach, abandoned at the outset -- and work to usher local democracy into communities in Massachusetts, New England and nationwide.

But rights-based organizing is not just about our rights, those of us here today. It's about everyone's rights, living and unborn, and the rights of the earth and all its creatures, the plants and animals, and the rivers, mountains, plains, oceans, and the skies and the soil. We are all irrevocably connected -- as we join together, rights become a reality, and a sustainable shared future becomes a possibility.

We the people are beginning to gather to stand up to forces of rule by the minimal few. The pluck starts here!

Come to a Democracy School. Organize your community. Contribute to the work of the Center for Democracy and the Constitution.
Join Us!

To further this challenging work, we have to meet our modest expenses. Your contribution will make a big difference!

To contribute online, click here. Or make out a check to "CDC" and mail it to:

Center for Democracy and the Constitution
12 Locust Avenue
Lexington, MA 02421

Contributions are tax deductible. Many thanks for your interest and support!

Adam D. Sacks
Executive Director
(781) 674-2339
www.constitution411.org


Back to Main Newsletter Page